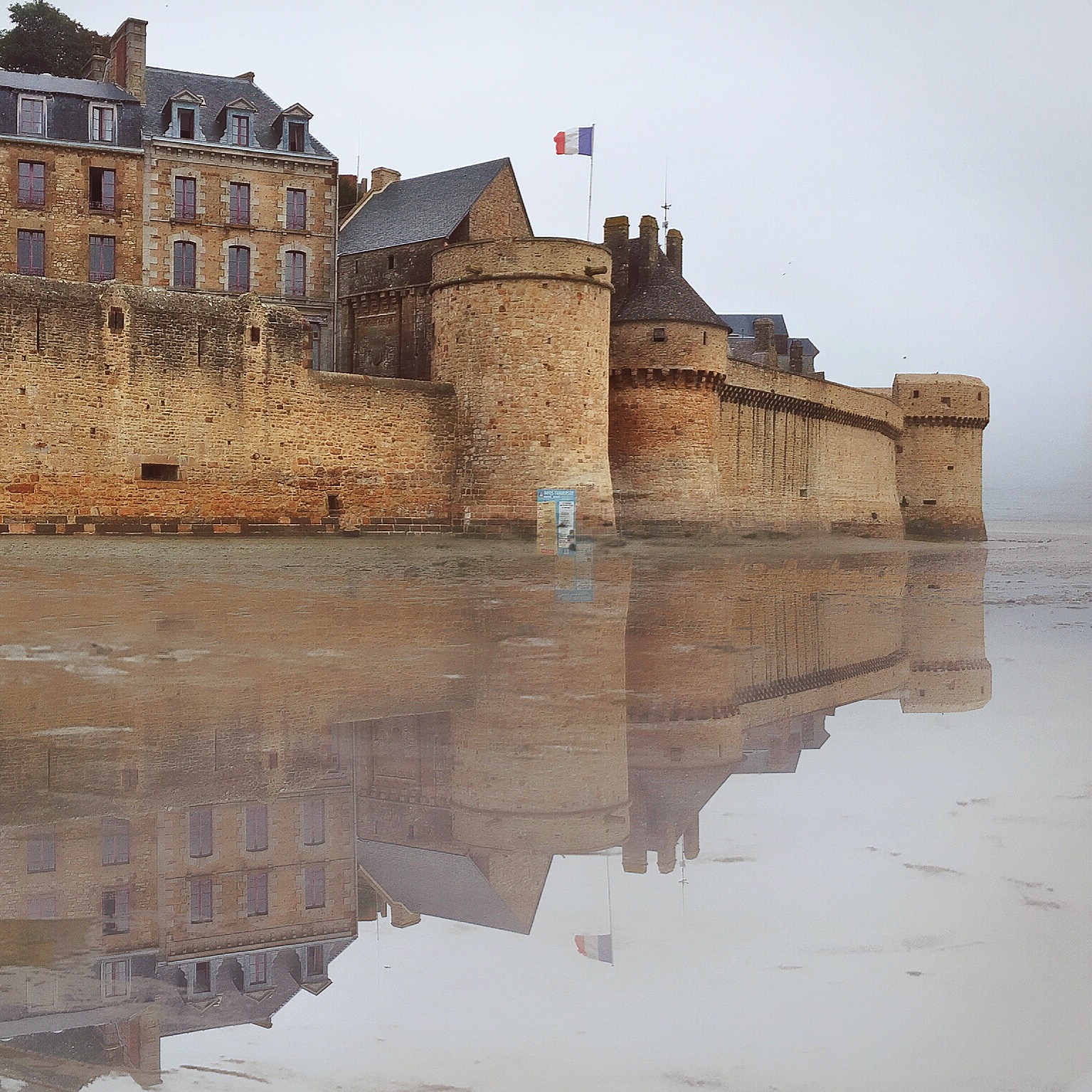 Normandy isn't the easiest of places to access and it's not always the first place people they may things to go while in France, but it really does stack up there with one of the best places to visit in Europe. While at first blush, Normandy may seem to be all war history and landing beaches- the character and depth of history of this coastal region offers treasures to it's visitors like the medieval fortress, Mont St. Michel, the incredible Bayeux tapestry and the harbour town of Honfleur. Compared to Paris, you'll find Normandy to be relaxed and affordable.
While you can make a quick day trip out of Paris to the D-Day Beaches, I'd recommend spending a couple of nights in Bayeux and really enjoying it. Actually, if you want to really enjoy it- stay at Chateau de Servigny and make it a whole week. You may find yourself looking up local property listings before your week comes to an end.
Eat
L'ASSIETTE NORMANDE: This restaurant, situated behind the Bayeux Cathedral, is either on some Rick Steve's recommendation or a nearby hotel sends guests there. It was totally packed with Americans when we were there. But, if you can swallow your pride and eat amongst other tourists, it's actually good food and the set menu price is hard to beat. (€17.00 for three courses, as of May 2019)
3 Rue des Chanoines, 14400 Bayeux | +33 2 31 22 04 61
LE MOULIN DE LA GALETTE: This tiny restaurant is owned by a cute couple, and you'll often see their three children mingling around the restaurant or cautiously walking out a tray of food to a table in the garden. Get the L'Aure galette (sub out the gizzards for ham) and the Speculoos Crepe for dessert. Don't forget the bowl of cidre... it's important.
38 Rue de Nesmond, 14400 Bayeux | +33 2 31 22 47 75
Do
D-DAY BEACHES: As an American, getting to see these places in person was humbling. I won't try to cheapen the experience by typing it out here- but I'll only reaffirm that every American should see this at some point. More details on where to go here.
OVERLORD TOURS: If you're not up for driving yourself and willing to splurge a little, book a tour with Overlord. The tours start in Bayeaux and take you to all the major interest spots (Omaha, Pont du Hoc, American Cemetary, St. Mere Eglise, etc). Plus, you've got great guides to talk you through what happened there on June 6.
Place de la Bridolle, 19120 Beaulieu-sur-Dordogne | +33 5 55 91 42 66
MONT SAINT MICHEL: This rocky island commune that sat on the coast of France is stunning. Make a trip to visit for pictures, but give yourself a couple of hours to get drawn in to the small town when you get there. Our visit here.
MONET'S HOUSE IN GIVERNY: For a girl that had Monet postcards taped up around her bathtub at the age of five, getting to see Claude Monet's home in Giverny was a dream come true. This trek is an easy one from Paris' St Lazare Station. Arrive at Vernon and take the bus from there. Read more about our visit here.
84 Rue Claude Monet, 27620 Giverny | +33 2 32 51 28 21
Stay
CHATEAU DU MONT: If you're travelling out to Normandy with a group (like a big group!) and need a cosy-yet-bougie home base, this chateau outside of Honfleur is perfect. Not only will you find yourself sleeping in a beautiful period house (or out in the renovated farmhouse, like we did)- but you'll get a chance to experience the wonderful hospitality of the estate managers, Mark and Moraig. A great find for a group of 15+. (Use this link to save some off your first stay with AirBnB, too.)
HOTEL CHURCHILL: Again a great option if you don't want to rent a car. Take the direct train from Paris St. Lazare (2 hours). Walk 10 minutes from the station to this cute hotel sitting below the gorgeous Bayeux Cathedral. It's a sweet hotel with a passion for WWII history. Plus, the friendly staff can help arrange a spot for you on their daily shuttle to Mont Saint Michel.
14 Rue Saint-Jean, 14400 Bayeux | +33 2 31 21 31 80
CHATEAU DE SERVIGNY: This gorgeous chateau not only is our favourite place to stay in Normandy, but it is also historically significant as it is where the Germans surrendered to the allies. The lush bedrooms ooze French charm while the grounds seem bring surprises every 5 minutes you wander deeper in them. Abandoned chapel? Miniature chateau for children to play in? Delapidated greenhouse? Pristine chicken coops? It has it all. It makes for the perfect space for children or couples looking for a fun place to stay on a group trip. You can also either utilise the kitchen and cook your own meals… or hire the chateau chef to cook you dinner for an exceptionally fair price. €20 per person for a 3 course meal of locally-sourced food. Read my full post about our stay in the Chateau here.
2, route de Servigny, 50700 Yvetôt-Bocage | inquiry@au-chateau.com
TAILLEPIEDS: This is the sweet bed & breakfast we stayed in near Mont Saint Michel- about a 15 minute drive from the landmark island. The two owners of this house, Patrick & Denis, rent out their quaint home by room or by the entire house, and their cooking is not to be missed.
Taillepieds, 35560 Bazouges-la-Pérouse | +33 9 52 86 42 97